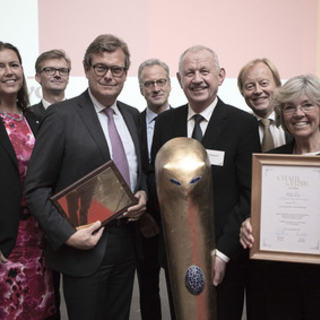 Michael Pram Rasmussen
Årets Bestyrelsesformand 2011
Bildet fra venstre: Christina Hvid, Brian Christiansen, Michael Pram Rasmussen, Jens Christian Hansen, Povl Krogsgaard-Larsen, Gunnar Eckbo og Aase Hoeck.
Intervju med Business.dk klikk her
Han har seilet en bedrift gjennom storm med store tap, og fortsatt gjennom til godt vær med store gevinster. Med seg har han hatt et internasjonalt mannskap bestående av 11, av de beste:
Ane Mærsk Mc-Kinney Uggla, viceformand
Niels Jacobsen, viceformand
Sir John Bond, engelsk
Arne Karlsson, svensk
Jan Leschly
Leise Mærsk Mc-Kinney Møller
Lars Pallesen
John Axel Poulsen
Erik Rasmussen
Robert Routs, nederlandsk
Jan Tøpholm
Bestyrelsesmedlemmene er meget dyktige til å fatte strategiske beslutninger i samarbeid med ledelsen.
Han er bestyrelsesformand i Danmarks største bedrift og han har ledet en turnaround i 2009, den største i Danmarks erhvervslivs historie.
Tapet var i størrelse som salget til den 64. største bedrift i Danmark. Mange hadde hoppet i livbåten med et slikt tap.
Bestyrelsesformanden holdt hodet kaldt og resultatet første 6 måneder 2011 før skatt var på 32,4 milliarder dkr. +20% målt mot 2010.
Han har meget god erfaring som bestyrelsesformand med 6 år i Coloplast og 5 år i Topdanmark. I 10 år var han CEO i Topdanmark og Topdanmark Forsikring.
Her lærte han seg god kommunikasjon og bedriften er en av de få som har opprettet rutiner for whistleblowers ved 3. part rapportering på en webside i trygghet og med konfidensialitet. Det er tilrettelagt et omfattende skjema som følger lovene i hvert land som en whistleblower svarer på innen:
diskriminering, trakassering, mobbing, fair handel, spionasje, sabotasje, hacking, bestikkelser, bryte internasjonale regler, forfalskning av rapporter og handel med innside informasjon.
Bedriften har også tilrettelagt for direkte telefon linjer for whistleblowers i hele 40 land i kampen for et korrupsjonsfritt næringsliv.
Bedriften er i 4 brancher og størst på antall containerskip i verden.
Med 11 bestyrelsesmedlemmer er han meget god på processer i bestyrelsesarbeidet. Hvert medlem er meget engasjert og stiller kritiske spørsmål til ledelsen i dårlige og gode tider.
Bestyrelsesformanden får de beste karakterer i bestyrelsen for sin integritet, modenhet og autoritet. I dette konglomerat av bransjer evner han å fokusere bestyrelsens arbeid på de rette oppgaver, og han motiverer alle til å delta i diskusjonene.
Han har en finger med i spillet for å få den best sammensetning av bestyrelse medlemmer til beste for bedriften. (30% fra utlandet og 20% kvinner)
Prisen uddeles for 5. gang i Danmark samt i de øvrige skandinaviske land. Prismodtageren går videre til konkurrencen om Prisen som Årets Nordiske Bestyrelsesformand.
Formålet med prisen er at sætte fokus på bestyrelsesformanden i virksomheder med gode økonomiske resultater, hvor bestyrelsesarbejdet har ligget på et højt kvalitetsniveau, og hvor bestyrelsesformanden har udvist god forretningsetik med fokus på strategiske grep for å gjøre bedriften ledende.
Dokumentationen for tildeling af prisen er fremskaffet fra årsrapporter og spørgeskema til bestyrelsesmedlemmerne. Dataene er vurderet ud fra 12 kriterier som blandt andet er minimum 2 år som bestyrelsesformand, vækst, soliditet, godt omdømme for virksomhed og bestyrelsesformand.
Prisen er
en vandreskulptur på 140 cm. lavet af den internationale kunstner Marian Heyerdahl. Det er en forgyldt sarkofag, som skal symbolisere evigt liv for virksomheden og med en mosaik udformet som et æg, der viser vigtigheden af at udklække nye ideer.
Prisen er gjort mulig med støtte fra Hovedpartner: PwC.
Michael Pram Rasmussn
Date of birth: 14 January 1955
Educational background: LLM., University of Copenhagen, 1980
Previous employment:
CEO, Topdanmark A/S and Topdanmark Forsikring A/S, 1996-2006
Group Director, Tryg Forsikring A/S (formerly known as Tryg-Baltica Forsikring A/S), 1995-1996
Group Director, Baltica Forsikring A/S, 1988-1995
Deputy Director, Baltica Forsikring A/S, 1986-1988
Director, Baltica Forsikring A/S, 1984-1986
Nye Danske Lloyd A/S, 1979
Management assignments with other Danish companies including area of responsibility*:
A.P. Møller - Mærsk A/S (C)
Topdanmark A/S (C)
Coloplast A/S (C)
William Demant Holding A/S (BM)
Danske Bank A/S (CM)
Management assignments with other companies including area of responsibility*: JPMorgan Chase International Counsil (CM)
Responsibilities in organisations or bodies including area of responsibility*:
Louisiana, Museum of Modern Art (BM)
*Management responsibilities: (C) Chairman (DC) Deputy chairman (BM) Board Member
(CM) Council Member (CD) Council Deputy
A.P. Møller - Mærsk Group
The A.P. Moller - Maersk Group is a worldwide conglomerate. We operate in some 130 countries and have a workforce of some 108,000 employees. In addition to owning one of the world's largest shipping companies, we're involved in a wide range of activities in the energy, logistics, retail and manufacturing industries.
More information about the Maersk Group can be found in our Group brochure here (ipaper-version).
Our management
The Executive Board handles day-to-day management and is responsible for our financial results and business growth. The Executive Board consists of Group CEO and Partner Nils Smedegaard Andersen, Trond Westlie, Jakob Thomasen, Claus V. Hemmingsen, Eivind Kolding, Søren Skou and Kim Fejfer.
Our values
For more than 100 years, our deeply held values have governed the way we deal with our employees, customers, and society in general. Our employees may come from every corner of the world, and we may work in many fields and business areas, yet we all share the same set of basic values.
Our heritage
Our Group was founded by Arnold Peter Møller in 1904. Following Arnold Peter Møller's death in 1965, his son, Mærsk Mc-Kinney Møller, assumed leadership of the group, which – thanks to initiative, foresight and enterprise – has grown into a major international business.
Our ownership
The parent company of the Group, A.P. Møller - Mærsk A/S, is listed on the Danish Stock Exchange, and has around 69,000 shareholders. The company's main shareholder, however, is The A.P. Møller and Chastine Mc-Kinney Møller Foundation, which was established by company founder A.P. Møller in 1953 to ensure that his life's work would always be owned by parties that held a long-term view of the company's development, in the spirit of the founder and according to his principles.
The share capital is split between A and B-shares, and only the A-shares carry voting right. The Foundation holds more than 50% of the A-shares and consequently has the voting majority.
The Foundation is mainly funded by the A.P. Moller - Maersk Group, but the Group has no influence on the Foundation's decisions regarding donations and investments. The Foundation aims to support Danish culture and heritage, Danish shipping, medical science and causes for the public good. Grants are only occasionally provided for non-Danish projects.
Business Units
• MAERSK DRILLING - MAERSK FPSOS - MAERSK LINE
• MAERSK LNG - MAERSK OIL - MAERSK SUPPLY SERVICE
• MAERSK TANKERS - SAFMARINESVITZER
• APM TERMINALS - DAMCO - DANSK SUPERMARKED
6 months 2011
Revenue for the period increased by 9% to USD 29.9bn (USD 27.4bn), primarily due to higher oil prices and container volumes. Profit for the period was 8% higher at USD 2.7bn (USD 2.5bn), positively affected by divestment gain from sale of Netto Foodstores Limited, UK of USD 0.7bn. The Group's ROIC was 12.8% (12.8%).
The container activities made a profit of USD 0.4bn (USD 1.2bn) and a ROIC of 4.5% (13.9%). Supply of new capacity reduced rates and this, combined with high bunker prices, set margins under pressure throughout the period. The number of containers carried increased by 6% to 3.8m FFE, while average freight rates, including bunker surcharges, were 3% lower than in the same period last year.

• Oil and gas activities continue to benefit from the high oil prices and made a profit of USD 1.2bn (USD 0.9bn) and a ROIC of 54.7% (36.1%). At an average oil price of USD 111 per barrel, the oil price was 44% higher than the same period last year. The Group's share of oil and gas production declined by 11% to 342,000 barrels of oil equivalent per day, primarily due to a lower share of production in Qatar and lower production in Denmark and the UK. Exploration costs were USD 355m (USD 180m).

• The terminal activities made a profit of USD 304m (USD 528m and USD 231m excluding divestment gains and other special items). Container throughput increased by 8% on a like-for-like basis and ROIC was 12.2% (21.5% and 9.9% excluding divestment gains and other special items). During the period, APM Terminals secured a number of new investment and development opportunities primarily in emerging markets.
Tankers, offshore and other shipping activities made a profit of USD 250m (USD 171m) and a ROIC of 3.4% (2.4%). The profit was negatively affected by impair ments of USD 250m in Maersk FPSOs and positively affected by reversal of impairments of USD 91m in Maersk LNG.
• Retail activities made a profit of DKK 4.6bn (DKK 0.9bn) and a ROIC of 61.8% (13.6%) and 10.6% excluding divestment gain. The result was positively affected by the divestment gain of DKK 3.8bn corresponding to USD 0.7bn from divestment of Netto Foodstores Limited, UK, which was completed in April 2011.
• Other businesses made a profit of DKK 597m (DKK 404m) and a ROIC of 5.0% (3.8%).
The outlook for 2011 is subject to considerable uncertainty, not least due to developments in the global economy, oil price and global trade conditions.

Tidligere prismodtagere:
2007 Mads Øvlisen, LEGO Koncernen
2008 Anders Knutsen, Danisco A/S
2009 Fritz Schur, DONG Energy A/S
2010 Povl Krogsgaard-Larsen, Carlsberg A/S
Kontaktperson IR A.P.Møller-Mærsk: Hans.Christian.Aagaard(at)maersk.com
Kontaktperson: Juryformand Gunnar Eckbo, +47 92024576 post(at)styreinfo.no